About Us
Safcon Seals Private Limited is a specialist manufacturer and exporter of practical, tamper evident and high barrier Tamper Indicating Security Seals & Barrier Seals. Tampering, theft, adulteration, as well as pilferage can all be reduced with the use of our collection of seals. We supply these to a variety of industries around India and Worldwide- Middle East, Africa, Asia Pacific, Australia, Europe, North America, South America, and Canada.
We regularly deal in a quality accredited variety of Pull Tite Security Seals, Saflok Container Seals, Bolt Container Seals, Anchor Security Seals, etc. Only the best is made available under the banner of our brand name, SAFCON. We never compromise on design accuracy, quality, sturdiness and durability of our collection.
Our technologically advanced production machines and outstanding research capabilities are backed with remarkable professional skills and resources. Together, they continue to be major sources of strength for our business enterprise.
Vision
The aim of our enterprise is to be recognized as the leader of the vertical in markets we deal in. We are working hard to make this dream our reality for our venture through product innovation, good quality management, efficient response to customer queries and much more.
Distribution & Agents
We rely on our competent agents and distributors, who are handpicked by our seasoned group of specialists, to make timely and error-free delivery of our manufactured Anchor Security Seals, Pull Tite Security Seals, etc. This network of agents and distributors assists us in meeting the expectations of clients promptly.
Application
Our firm is well-known across the world for developing a wide range of high-quality seals that are employed in various applications, including:
Airlines/Flight Services
Government/Public Utilities
Chemicals/Pharmaceuticals
Government/Public Utilities
Transport and Logistics
Mail and Courier Services
Chemicals/Pharmaceuticals
Mail and Courier Services
Airlines/Flight Services
Transport and Logistics
Approvals & Credentials
Numerous domain experts have praised our prominent business. Our firm is well-known for regularly giving exceptional support to clients and bringing forth quality tested seals. Every product matches the set standards of the domain. Owing to this, we have received several accolades, approvals and certifications.
Why Safcon?
In the marketplace, our enterprise serves as a benchmark of performance. Our competitors look up to us, aiming to achieve the same level of perfection that we offer. Clients appreciate our steadfast commitment to sustainable development and innovation. In recent years, our professional service, impeccable design options, and quality management skills have all contributed to our popularity.
Some other factors that have made our company a trusted choice in the eyes of many are:
Our ethical business practices
Our compliance to fair trade laws
Our reasonable pricing policy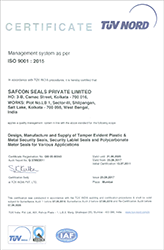 Read More