Hasp Security Seals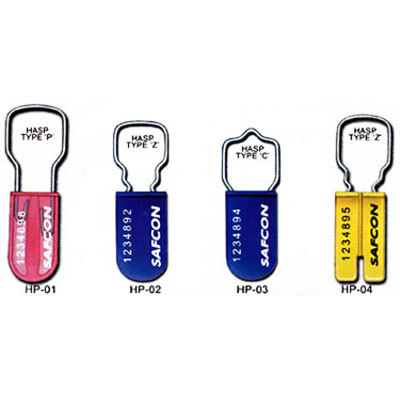 Hasp Security Seals
Product Description
Exclusive Features :
One piece assembly
Easy to apply by simply pushing metal hasp into plastic body.
The HASP Lok Seal installs easily and quickly, Just pass the wire hasp through the holes of the object. Insert the hasp into the body of the seal and push it as far as it will go.
Combination of plastic body and metal hasp provides high strength and durability.
Available with a choice of galvanised or non-corrosive, non-magnetic stainless Steel Wire hasp of several shapes shown in this catalogue and can be supplied with customers own design hasp.
Available in wide variety of colours both Opaque and See through colours.
Seal body can be with sequential numbering and company name/texxt upto 10 characters.
Can be supplied with label displaying company name along with barcode symbology.
Can be provided specially treated area on the seal body for pen/pencil markings/signature.
Hasp is scored for easy removal by hand
Quick and easy to use, no tools required.
Designed for single use, destructs when opened.
Durable, unaffected by cold or heat.
Material-High Tensile Strength Engineering Plastic and Stainless steel or Galvanised steel hasp of 1.20 mm. dia.
Applications :
Pairline Trolleys
First Aid Boxes
Containers
Warehouses
Cash-In-Transit
Hotel Left Luggage
Electric Meters
Fire Drums
Safe Deposit Boxes
Cabinets
Zipper Bags
Vehicle Doors
Valves
Catv Cable Identification
Fibre Optic Cale Identification

Customisation :
STANDARD COLOURS

NAME/LOGO

(Printed)

NAME/LOGO

(High Rise Molded)

SERIAL NUMERING

BARCODED NUMERING

See-through Red, Yellow, Blue, Green, Orange, Opaque, and other colours on request

Min. qty. 10000 Nos.

Min. Qty.100000 Nos.

Min. Qty.5000 Nos.

min. Qty.10000 Nos.

While placing an order please specify Part no. colour of the seal, Hasp Design, wire type-Stainless Steelor Galvanised steel, starting serial numbering, logo/name and ar coding
Contact Us
3-B, Camac Street, Kolkata, West Bengal, 700016, India
Phone :+918037551250