Metgrip Polycarbonate Meter Security Seal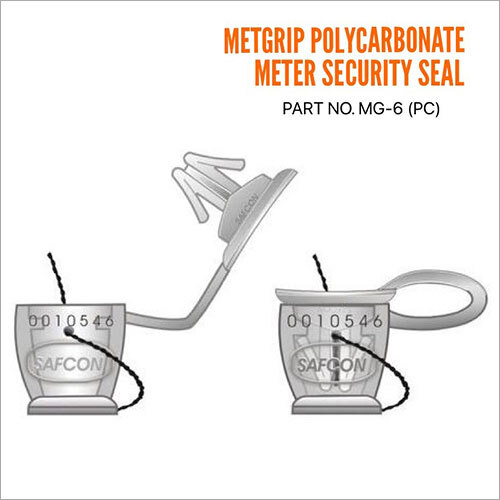 Metgrip Polycarbonate Meter Security Seal
Price And Quantity
Product Specifications
: For Sealing of Electric, Water and Gas Meters

Metgrip Polycarbonate Meter Secutiry Seal
Transparent

UV resistant Polycarbonate and Stainless Steel Wire
Tamper Proof Security Seal

Round
Product Description
METGRIP TAMPER INDICATING SECURITY SEAL
Pilferage & theft of Utilities are international problems. Billions of dollars worth electricity & utility are stolen annually. These costs are routinely passed along to consumers in the form to provide positive, fool proof and reliable security seal to enable Utilities to effectively utility meters and its carefully researched design make it impossible to tamper the seal without trace. The seal once broken cannot be glued or returned to meter. It's unique design features and see-through body give an exceptionally high level of security with a low insertion force, resulting an ease of operation not experienced from any other type of security seals.
The seal is designed for single use and cannot be accidentally opened and must be cut by a cutting plier for removal. Due to the see-through transparent body, the sign of internal tampering is easily detected. Embossed Logo and non-repeat serial numbering make each seal unique and cannot be replaced even by corporation's own employees, if they so desire.
State-of-the-art one piece security seal comprising of See-Through Transparent body and non-corrosive, non-magnetic Stainless Steel adjustable Sealing wire.
Quick and easy to use: simply insert wire end through hole via equipment recess and insert the anchor into capsule, apply thumb pressure, it s fastened permanently.
Materials show clear signs of tampering such as discolouration when the material is compromised by penetration, drilling, cutting, bending or pulling etc.
Easy finger closure, no tools required
Designed for single use, destructs when opened.
Proven one piece security system
Ergonomically user friendly
Cannot be accidentally opened - simple cutting plier needed for removal.
See- through transparent body gives the seal a complete visualisation of its fixing mechanism and provide clear indications of tampering.
Highly visible unique 7 digit non-repeat alpha-numeric serial number provided on each seal
High strength security
Versatile product (fits almost all applications)
Cost effective alternative with value added features.
Seal withstand temperature upto 147 degree Celsius
Boiling Water Proof
Chemical Resistant
UV Resistant
Withstands long-term exposure to direct sunlight.
Durable, can withstand extreme weather conditions
Not hazardous to environment
Material : High Strength virgin polycarbonate and non-corrosive, non-magnetic, pull resistant Stainless Steel Sealing Wire
Application
Electric Meters
Water Meters
Gas Meters
Taxi Meters
Transformers
Oil Tankers
Calibrations
Valves
Cash Box
Drums
Transformers
CUSTOMISATION
Standard Colours: Transparent Clear, Transparent Red, Transparent Yellow, Transparent
Blue, Transparent Green. Other colours on request minimum order quantity applies.
Name/Logo (Hi-rise Embossed): Minimum Quantity 100000 nos.
Name/Logo Printing: Minimum Quantity 10000 nos.
Serial numbering: Minimum Quantity 5000 nos.
Barcoding: Minimum Quantity 100000 nos.
INSTALLATION INSTRUCTION
Insert wire through hole via equipment recess
Insert anchor into capsule
Apply thumb pressure and its locked
Product details
SAFCON PART NO

STANDARD SEALING WIRE LENGTH mm

TO FIT INTO MINIMUM HOLE DIA

MAXIMUM PRINT AREA mm

WIRE TYPE

MG-6

150

1.00


10 x 5 or 6 character

Pull Resistant

MG-8

20

1.00

MG-10

250

1.00

Non- Magnetic

MG-14

350

1.00

Non-corrosive

MG-24

600

1.00

Stainless steel
Contact Us
3-B, Camac Street, Kolkata, West Bengal, 700016, India
Phone :+918037551250